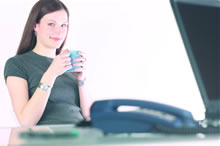 We are Your Source for Microsoft Training
For more than a decade, both our Senior Staff and Partners have delivered practical, student-focused training for today's most in-demand jobs.
Our reputation as one of the region's best career schools continues because of our unparalleled commitment to every student.
We offer training at our Lowell, MA center, and also offer comprehensive and customized onsite training at corporate locations throughout Massachusetts and New Hampshire.
We are WIA, DES and ITA Approved, and are State-Certified in Massachusetts for career training.
Contact our Center, or refer someone for our current schedule.
Courses Offered
Computer Certification

Computer Support

Networking

Business Support

Financial Support

Medical Administration

Administrative

Internet

back to top

Seminars and labs are either onsite at your location, or in our Lowell (MA) or Plymouth (NH) offices. Contact us for pricing and coordinating arrangements... Training Clients
Courses taught by vendor-certified instructors:
Adobe FrameMaker
Adobe Acrobat
Adobe PhotoShop
Adobe Illustrator
Adobe InDesign
Macromedia Dreamweaver
Macromedia Flash
Macromedia RoboHelp
Macromedia Captivate
Courses taught by technology and process consultants:
XML for Technical Communicators
Indexing User Manuals & Online Information
Successfully Globalizing Information

back to top

Contact our Center, or refer someone for our current schedule.
Our Client List